Join the Coded Hams Family --- Get Code Quick Here Now!!
---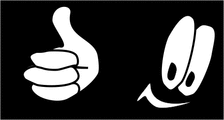 GREAT NEWS! In our new Morse code Fail-Proof system, Code Quick has discontinued passwords or unlock keys. We have discovered, over the years, that hams are honest and trustworthy. We ask that you honor this ham reputation by refusing to share materials without our written permission. Only in this way will we be able to make this fabulous program available to future hams!

---
Two Great Ways To Go...
Audio CDs Traditional
Six Audio CD Package

This is our original product. Sold as cassette tapes from 1980-1995. Transferred to audio CDs in 1995. It has been used successfully by 1000's. Made specifically for car & Audio CD players. Also plays straight from your CD player in any computer. Re-mastered with sound effects and recorded in CD-R format to run in cars, computers and TV CD players in 1994. Comes with printed cartoon cards to make everything work smoothly. Book and forms come as a .pdf file on CD #6. This is the way to go if you are not at all computer savvy!

We'll p

ut your 6 CDs & printed cartoons into the mail today.

Now Just $45.95 and we pay tax and postage!

Click drop down box below

*For overseas shipping click second box below.

Click to Buy Now for overseas shipping

By Mail
Or Download All Now


Newest Version
Code Quick 2016

Our famous Code Quick system has been edited to run on iTunes or Microsoft Media Player and can by synced to all types of computers, on iPads, iPods, smart phones, or almost any digital device - Mac or PC! Simple to set-up and easy to use. Low level computer skill is helpful but not necessary. Download has printable sound-alike cartoons with book and materials. (Mailed version also has printed Cartoon cards!) Step by step text to guide you to easy mastery. Download and get started today. E-book, sound-alike cards and forms included.

Reduced to $30.95 or $35.95 as an easy download! Get started today!
Overseas download, same price!!!


Only $39.95 as a CD Rom - Now includes colored sound-alike cards! Postage and tax Included.


Click Drop down below...
Even cheaper if you are a former user. (Click line below to see options.)

Older Versions:

Code Quick Centennial our acclaimed software is still available to new buyers or as an upgrade. This software will run on PCs with ample RAM and is not available for use on Macs, iPads or phones.

If you would like to place an order for it.
It includes the program Cody Morris a robotic ham that will give on-air type practice before you venture out onto the bands.
Also Flashing Light Morse for personal safety & security!

Click Here
Order Traditional for USA and Canada